My Custom Spinwit: I doubt any more Galactic Guardians (Protectors) will be made, so this is my custom Spinwit. I also made the Doom Troopers, Battleground Catra & Clawdeen. He has a trident gun, but it's only in a couple of pictures.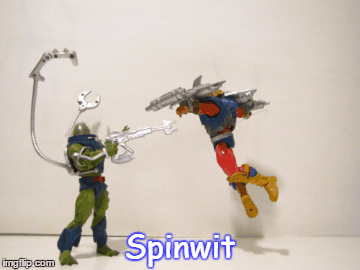 Heroic Tornado-Spinning Pilot
A tough talking Star Pilot who always has a joke to tell over the sub-space freighter channel. But when it comes down to a fight, he means serious business. His two-fisted tornado spin can knock out a whole squadron of Evil Mutants.
He pilots cargo through evil enemy lines and delivers much needed supplies to He-man and the Galactic Guardians. He and his good buddy Tuskador, the trader, make un unbeatable pair even though they usually don't agree.
He can handle the Battle Bird & win Bolajet races. He is believed to be the legendary champion of the planet Zil but Spinwit uses his Spin winges to protect the Tri-Solar System from Skeletor, Flogg & Catra.